TV Interview!
Interview with contestants from "American Song Contest" on NBC by Thane 4/4/22
I haven't been press for a live event before. I also enjoy music, so I decided to cover this event. I knew of the hosts, so I was hoping to speak to at least one of them.
Watch the episode here if you missed it!
SNOOP DOGG
I have previously seen him at a festival in New Zealand, so I was excited to speak to him. This is probably one of the main highlights of the year for me. I asked him if he enjoyed seeing a live audience now that the pandemic is over. I regret this phrasing as the pandemic isn't really over. There was a period when live events didn't happen, and I was trying to reference this time. It was great to speak to him!
SABYU OF NORTHERN MARIANA ISLANDS
I could tell he values his home culture, so I wanted to incorporate the people back home in my question. I asked him what they think of his success.
NI/CO OF ALABAMA
On reflection, I really should have been asking more music oriented questions as I enjoy learning about music. This was the only time I really took the opportunity to do this. I asked them how do two people write a song.
ALE ZABALA OF FLORIDA
I instantly noticed that her performance was very pink themed. (the color, not the singer! LOL!) So I asked her how she decided on that color.
TYLER BRADEN OF TENNESSEE
I just thought he had so much raw emotion in his voice. I really enjoyed his singing.
NITRO NITRA OF DELAWARE
I really enjoyed the rhythm of her song, so I asked how she chose it.
BRITTANY PFANTZ OF LOUISIANA
I really enjoyed the special effects of her song, so I asked how the special effects were chosen.
GRANT KNOCHE OF TEXAS
He was definitely my favorite of the night. I noticed he was a really good dancer, so I asked him how long it took to learn the dance moves.
BROOKE ALEXX OF NEW JERSEY
I really liked her song, "I Don't Take Pictures Anymore". I asked her what her song meant to her.
JESSE LEPROTTI OF SOUTH CAROLINA
Since Jesse's song was inspired by his mom, I was really curious to know what he told her about the song before his performance.
JUDD HOOS OF SOUTH DAKOTA
I was curious to know if their song "Bad Girl" was about anyone specific. Watch the video to find the answer!
We didn't get to interview Jewel (representing Alaska) or Riker Lynch from Colorado.
Jewel did a country song. It was great hearing her on stage. I love her song, "I Love You Always Forever."
Riker seems to be an upbeat person, and his song "Feel the Love" reflected this..I liked what he was wearing, too!
MORE INFO:
American Song Contest
Mondays on NBC (8-10 p.m. ET); Series Premiere: March 21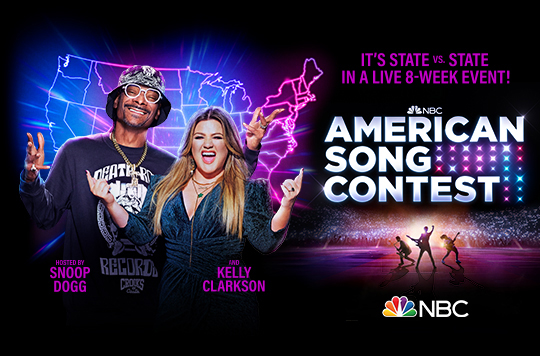 America's biggest live entertainment event has arrived! Based on the worldwide phenomenon "Eurovision Song Contest," organized for 65 years by the European Broadcasting Union and watched by 200 million viewers annually, this amazing musical spectacular combines the competitive spirit of rooting for your favorite sports team with the joy of watching a beloved singing performance.
In the U.S. version of the international megahit, "American Song Contest" will feature live original musical performances, representing all 50 states, five U.S. territories and our nation's capital, competing to win the country's vote for the best hit song. The 56 artists span a wide range of performers – from undiscovered talent, up-and-coming new artists, and rising stars to established and legendary icons. An incredible solo artist, duo, group or band will represent each location and perform a new original song, celebrating the depth and variety of different styles and genres across America.
Hosted by Snoop Dogg and Kelly Clarkson, the eight-week live competition consists of three rounds as the artists compete in a series of Qualifying Rounds, followed by the Semi-Finals and the ultimate Grand Final where one state or territory will emerge victorious.
"American Song Contest" is executive produced by Propagate's Ben Silverman and Howard T. Owens, alongside Audrey Morrissey, Amanda Zucker, Kyra Thompson and Gregory Lipstone as well as American Song Contest, Inc.'s Anders Lenhoff, Christer Björkman, Peter Settman and Ola Melzig. Snoop Dogg and Kelly Clarkson also serve as executive producers.
The series is produced by Propagate in association with Universal Television Alternative Studio, a division of Universal Studio Group, and American Song Contest, Inc.
Hashtag: #AmericanSongContest
Snoop Dogg
Executive Producer/Host, "American Song Contest"
A multi-platinum artist, actor, philanthropist and entertainment icon, Snoop Dogg has reigned for nearly three decades as an unparalleled force, raising the bar as an award-winning entertainer and globally recognized entrepreneur. Snoop defines entertainment history. He has released 21 studio albums, sold over 40 million albums worldwide, reached No. 1 countless times on Billboard charts internationally and received 20 Grammy nominations.
A California native, Snoop has also appeared in numerous films, such as "Dolemite Is My Name," "The SpongeBob Movie: Sponge on the Run," "The Addams Family," "Beach Bum," "Starsky & Hutch," "Soul Plane" and the Oscar-winning drama "Training Day," among others. He has also produced several TV shows and films, including Vice's "Reincarnated," "Mac & Dean Go to High School" and "Hood of Horror" through his production company, Snoopadelic Films. He made his mark in television when he garnered an Emmy Award nomination as executive producer for the hit VH1 show "Martha & Snoop's Potluck Dinner." Snoop was also the executive producer of the Netflix show "Coach Snoop," "GGN: Double G News," MTV's "Mary + Jane" and the TNT game show "Joker's Wild," which he also hosted.
Most recently, Snoop has hosted and produced several projects through his Snoopadelic films, including two Peacock originals – "2021 and Done" alongside Kevin Hart, a hilarious retrospective on the year that began with so much promise; and "Olympic Highlights with Kevin Hart and Snoop Dogg," recapping the Olympics' most impressive displays of athleticism and the moments that didn't go as planned.
Northern Mariana Islands: Sabyu
State: Northern Mariana Islands
Singer's name: Sabyu
Hometown: Saipan, Northern Mariana Islands
Resident: Olympia, WA
Matthew Sablan, known musically as Sabyu, is a Pacific Islander singer, songwriter, producer, engineer, artist mentor and multi-instrumentalist. He is known for his eclectic music style combining island roots and Stateside influences alike, blending reggae, rock, soul, hip-hop, funk, jazz and world music. Sabyu mentors young artists with a Seattle-based non-profit, Totem Star, guiding aspiring youth along their own music journeys. He makes music to bring all walks of life together in the name of love, spirit and humanity, and wants to let everyone know that even if you come from a small island, you can make big waves around the world.
Alabama: Ni/Co
State: Alabama
Group name: Ni/Co
Hometown: Montgomery, AL
Resident: Los Angeles, CA
Ni/Co is a duo made up of Dani Brillhart and Colton Jones. They began gaining popularity in 2019 from their YouTube videos, which have accumulated more than 40 million views. The pop duo has had their music featured on various networks, including the CW, VH1, NBC, BET, TNT, Starz and Freeform. Their growing audience has granted them attention and opportunities to work with brands such as Google, Adobe, Volkswagen, Reese's, Dell, Chips Ahoy, Fender and more. They have an insatiable passion to perform and pull inspiration from wanting to touch the lives of everyone who hears their music. Ni/Co is so excited to represent Alabama as that is where Colton discovered his love for music and where they played events together which helped them realize their love for performing together, thus creating Ni/Co.
Florida: Ale Zabala
State: Florida
Singer's name: Ale Zabala
Hometown: Miami, FL
Resident: Parkland, FL
Alexa Zabala, known professionally as Ale Zabala, is an American singer, songwriter, musician and dancer. She's a Latin pop artist as well as a writer for other singers and started writing when she was 13. Ale went to college for music business and met her first producer with whom she began writing all of her songs. She released her first single in 2019 and is constantly in music sessions writing for other artists and working on new musical projects. Ale is ready to represent Florida, where she went to her first concert and to school to study music.
Tennessee: Tyler Braden
State: Tennessee
Singer's Name: Tyler Braden
Hometown: Montgomery, AL
Resident: Nashville, TN
Tyler Braden was inspired to pursue a musical career from a young age by legend Hank Williams. He moved from his small town in Alabama to Nashville to pursue a career in music, teaching himself guitar and working as a firefighter in the meantime. He's now a budding star with more than 70 million streams to his name and a growing list of major tour credits. In January, Braden made his Grand Ole Opry debut setting the tone for big things to come this year, including representing Tennessee on "American Song Contest." Tennessee is where his music career really found its footing and he says he owes it all to the state. Tyler is prepared and excited to represent it in the best way he knows how.
Delaware: Nitro Nitra
State: Delaware
Singer's name: Nitro Nitra
Hometown: Wilmington, DE
Resident: Middletown, DE
Nitro Nitra is a soul-rock singer and has been singing since before she could walk. After moving away, Nitra experienced a spiritual awakening in 2018 that led her to come back to her roots in Delaware. She first performed as Nitro Nitra in 2021 and since then has released an EP, visual album and two singles. Nitra's goal as a musician is to create a shared experience with her fans where they can open their minds to new levels of existence and awakenings of their own. Nitro Nitra is excited to represent Delaware, where she began her musical journey.
Louisiana: Brittany Pfantz
State: Louisiana
Singer's name: Brittany Pfantz
Hometown: DeRidder, LA
Resident: Nashville, TN
Brittany Pfantz's music is perfumed with the sounds she was raised on: Louisiana swamp, rock, gospel, and down-in-your-gut soul. She parades her roots honestly, like the street bands of New Orleans, where she learned how to stay true to the music and to herself. Brittany just finished recording her debut EP with Grammy Award-winning producer Jacquire King and is currently shopping the project and playing shows around Nashville. She is representing Louisiana because even though she lives in Nashville, it will always be in her roots.
Texas: Grant Knoche
State: Texas
Singer's name: Grant Knoche
Hometown: Frisco, TX
Resident: Los Angeles, CA
Grant Knoche, 19, taught himself to write and produce in his childhood bedroom and he hasn't looked back since. Grant's synth-driven, deep bass and intimate pop songs have all been written and produced by him. On his way to gathering over 900,000 followers, Grant has spent most of his life on the road performing more than 160 shows across America, including on "Today," at Radio City Music Hall, Woodstock and many other locales. Grant's debut EP, "Color Me Blue," has been featured on multiple top playlists and he was recently called out by Ones to Watch as "One of today's finest rising pop stars." Grant's excited to represent his home state of Texas.
New Jersey: Brooke Alexx
State: New Jersey
Singer's name: Brooke Alexx
Hometown: Old Tappan, NJ
Resident: Nashville, TN
Pop starlet meets girl next door in Brooke Alexx – an Asian-American New Jerseyan songwriter, singer, performer, director and editor. Brooke wields her creative powers to inspire young women just as Taylor Swift inspired her to start writing songs of vulnerability and empowerment at age 13. Her magnetic melodies, paired with her ever-relatable coming-of-age lyrics, have resonated more in 2021 than any other year through a familial-focused EP. Brooke's confidence and contagious personality oozed into 2022 on the back of her first festival performance at Lollapalooza, a brand collaboration with IKEA and a sync license in Netflix's film "Resort to Love."
South Carolina: Jesse LeProtti
State: South Carolina
Singer's name: Jesse LeProtti
Hometown: Irmo, SC
Resident: Los Angeles, CA
Jesse Christopher Blocker III, known professionally as Jesse LeProtti, is known for his wide vocal range, crisp live performances and diverse music catalog that includes pop, R&B, soul, electronic and many more styles. Jesse strives to bring back "real music," making listeners feel a sense of deja vu while keeping it 100% authentic to himself. Being from South Carolina has played a huge role in who he is today – musically and mentally. Two of his biggest musical influences, James Brown and Darius Rucker, are from South Carolina. He is proud to represent his home state as the people of South Carolina have the "go getter" and "never give up" mentality which has led him to where he is today.
South Dakota: Judd Hoos
State: South Dakota
Singer's name: Judd Hoos
Hometown: Spearfish, SD
Resident: Rapid City, SD
Judd Hoos is a rock band from the Black Hills of South Dakota. The band's line up consists of  Andy Young, Shane Funk, Keithan Funk, Tyler Bills, and Chase Huseby. In the past 12 months, Judd Hoos has released a new EP, "Not Alone," organized the Nashville Comes to the Black Hills songwriting camp and hosted the first-ever Judd Hoos Charity Jam. They appeared on multiple tour stops with Nashville rockers the Wild Feathers, played close to 100 Midwest clubs, theaters, festivals and fairs and even shared the stage with rock icon Billy Idol. In addition to recording new music, they have renewed a tour sponsorship deal with Remedy Brewing Company for the second straight year and collaborated on their own IPA, Hoos Joos.
Proofread and Edited by Brenda
Back to the Primetime Articles and Interviews Page
Follow Us!