TV Interview!
Interview with Grant Knoche of "American Song Contest" on NBC by Thane 5/5/22
I was very happy to get this interview with Grant. He does such a great job on ASC and is very popular with fans (and with Kelly Clarkson, with whom he shares the home state of Texas!).  Please vote for him if you like his music.
Here are the questions I asked:
How does it feel representing Texas in a live TV show?
What does "Mr. Independent" mean to you?
What are the challenges of being a young solo singer?
Why did you join Kidz Bop and what was that like?
As a solo artist, what inspires your music?
These days collaborations are popular. With whom would you want to collaborate?
Is there anything in particular that gets you in the mood to write songs?
What's your view of modern pop music?
Do you feel that streaming services fairly compensate musicians?
I have watched your latest music videos. How do you come up with ideas for them?
Where can people follow you?
MORE INFO:
Texas: Grant Knoche
State: Texas
Singer's name: Grant Knoche
Hometown: Frisco, TX
Resident: Los Angeles, CA
Grant Knoche, 19, taught himself to write and produce in his childhood bedroom and he hasn't looked back since. Grant's synth-driven, deep bass and intimate pop songs have all been written and produced by him. On his way to gathering over 900,000 followers, Grant has spent most of his life on the road performing more than 160 shows across America, including on "Today," at Radio City Music Hall, Woodstock and many other locales. Grant's debut EP, "Color Me Blue," has been featured on multiple top playlists and he was recently called out by Ones to Watch as "One of today's finest rising pop stars." Grant's excited to represent his home state of Texas.
American Song Contest
Mondays on NBC (8-10 p.m. ET)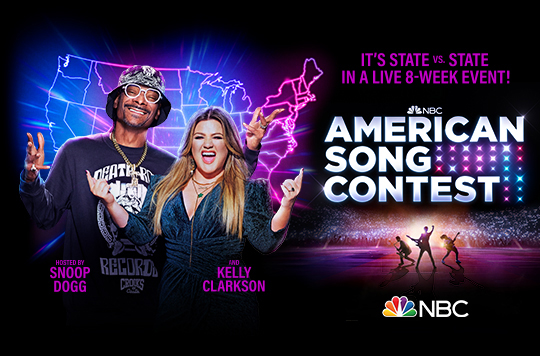 America's biggest live entertainment event has arrived! Based on the worldwide phenomenon "Eurovision Song Contest," organized for 65 years by the European Broadcasting Union and watched by 200 million viewers annually, this amazing musical spectacular combines the competitive spirit of rooting for your favorite sports team with the joy of watching a beloved singing performance.
In the U.S. version of the international megahit, "American Song Contest" will feature live original musical performances, representing all 50 states, five U.S. territories and our nation's capital, competing to win the country's vote for the best hit song. The 56 artists span a wide range of performers – from undiscovered talent, up-and-coming new artists, and rising stars to established and legendary icons. An incredible solo artist, duo, group or band will represent each location and perform a new original song, celebrating the depth and variety of different styles and genres across America.
Hosted by Snoop Dogg and Kelly Clarkson, the eight-week live competition consists of three rounds as the artists compete in a series of Qualifying Rounds, followed by the Semi-Finals and the ultimate Grand Final where one state or territory will emerge victorious.
"American Song Contest" is executive produced by Propagate's Ben Silverman and Howard T. Owens, alongside Audrey Morrissey, Amanda Zucker, Kyra Thompson and Gregory Lipstone as well as American Song Contest, Inc.'s Anders Lenhoff, Christer Björkman, Peter Settman and Ola Melzig. Snoop Dogg and Kelly Clarkson also serve as executive producers.
The series is produced by Propagate in association with Universal Television Alternative Studio, a division of Universal Studio Group, and American Song Contest, Inc.
Hashtag: #AmericanSongContest
Proofread and Edited by Brenda
Back to the Primetime Articles and Interviews Page
Follow Us!