TV Interview!
Interview with performers of "American Song Contest" on NBC by Suzanne 5/2/22

This was the virtual red carpet interview for this show's second semi-finals night. Those of us in the press watch the live show, and then they bring out each of the performers for us to chat with. We typically get one question per performer, although sometimes we can slip in a second one if we're quick. Sadly, Michael Bolton was not available tonight. We did get everyone else, though. Anyway, while I watch the shows, I always write down their name, where they're from, and then any possible questions to ask. If I can't think of any, then I go online and do research. It can be tough sometimes to come up with a question on the spot, even though I've been doing this for 14 years. I prefer to think of an unusual or specific question rather than just a generic one. I hope you enjoy these videos! I had a blast. Don't forget to vote for your favorites Sunday night!
Broderick Jones
He's definitely one of my favorites because of his great voice. He seemed really nice here, too. To be honest, they all do! They all are so excited and have great energy.
Grant Knoche
He's a great performer and has been performing for a very long time, even at his young age. I think he will go far, regardless of what happens here.
Tenelle of American Samoa
She is very enthusiastic and proud of her heritage. I loved hearing her talk about what she was wearing and what it means to her family.
John Morgan of North Carolina
This guy is a good singer and songwriter, and he's already working with big name stars. I don't think he quite has the star power or song to win this competition, though.
Chloe Fredericks of North Dakota
She is very likable, and she seems to have a great life where she balances out work and home life. She's a good rocker chick!
Christian Pagán of Puerto Rico
He is my favorite, and I hope he wins! I really love his song, his energy, his performing, and his story.
ENISA of New York
She has a ton of energy and obviously loves what she does, even down to picking out the right costume. She has a great New York attitude, too.
Stela Cole of Georgia
This girl is beautiful, but she has a goofiness that makes her more approachable than most beautiful women.  Perhaps that's because she has a sports background. I'm surprised she isn't a model, too.
Tyler Braden of Tennessee
This guy is a very down-to-earth kind of cowboy dude. I hope he didn't mind my asking him about wearing his baseball caps.
Sweet Taboo of California
It's funny that these girls are from California because it seems like many of the performers are from more than one state. For instance, Tenelle is really from California, not American Samoa. Tyler Braden is really from Alabama, not Tennesee. I guess they fit the people in where they need them. It was fun to chat with these women and get to know them a little bit. I'm not really into rap music, but they seem like solid performers.
MORE INFO:
American Song Contest
Mondays on NBC (8-10 p.m. ET)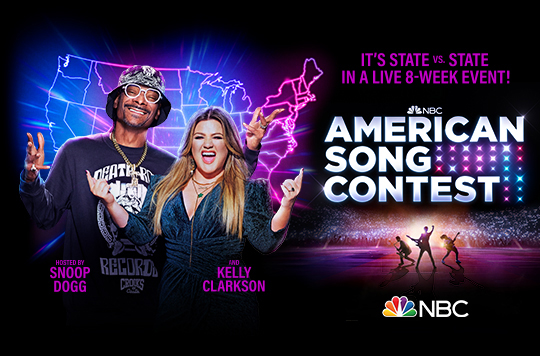 America's biggest live entertainment event has arrived! Based on the worldwide phenomenon "Eurovision Song Contest," organized for 65 years by the European Broadcasting Union and watched by 200 million viewers annually, this amazing musical spectacular combines the competitive spirit of rooting for your favorite sports team with the joy of watching a beloved singing performance.In the U.S. version of the international megahit, "American Song Contest" will feature live original musical performances, representing all 50 states, five U.S. territories and our nation's capital, competing to win the country's vote for the best hit song. The 56 artists span a wide range of performers – from undiscovered talent, up-and-coming new artists, and rising stars to established and legendary icons. An incredible solo artist, duo, group or band will represent each location and perform a new original song, celebrating the depth and variety of different styles and genres across America.Hosted by Snoop Dogg and Kelly Clarkson, the eight-week live competition consists of three rounds as the artists compete in a series of Qualifying Rounds, followed by the Semi-Finals and the ultimate Grand Final where one state or territory will emerge victorious.
"American Song Contest" is executive produced by Propagate's Ben Silverman and Howard T. Owens, alongside Audrey Morrissey, Amanda Zucker, Kyra Thompson and Gregory Lipstone as well as American Song Contest, Inc.'s Anders Lenhoff, Christer Björkman, Peter Settman and Ola Melzig. Snoop Dogg and Kelly Clarkson also serve as executive producers.
The series is produced by Propagate in association with Universal Television Alternative Studio, a division of Universal Studio Group, and American Song Contest, Inc.
Hashtag: #AmericanSongContest
Proofread and Edited by Brenda
Back to the Primetime Articles and Interviews Page