TV Interview!
Interview with Laurence Leboeuf of "Transplant" on NBC by Suzanne 3/29/22
This was a very fun interview! We did it on Zoom. Unfortunately, the video recording didn't come out. I hope you can enjoy it, anyway. She's a wonderful actress, and I really love the show.
1. Mags struggles a bit for a while, with her mentor in the coma. Was that a challenge to play, or fun?
All of the above. It's always a challenge to bring this character to life because she's so complicated. Having to deal with not having her mentor around is very difficult for her, and she has to learn how to cope. It's like her lighthouse has drowned.
2. Then everyone has to contend with the obnoxious new doctor who takes Bishop's place for awhile, Mark. How was it, welcoming a new actor into the dynamic of the show?
Oh, well, Gord (the actor who plays Mark) is amazing. We had a lot of fun and he fit right in with the rest of us. We were surprised at how well. Even though we hate the character, we liked him as a person. He puts Mags through a lot and makes her doubt herself.
3. Then Mags and Bashir almost kiss and have some awkward moments. When did you know that Mags and Bashir might become a "thing?"
From the beginning, Mags has found him attractive because he's so smart and has his own unique way of doing things.
4. Without giving us any spoilers, what other challenges does Mags have this season?
Mags has some major changes. She gets interested in cardiology because of what happens with a patient, and it's really a big deal for her.
5. Now that you've been playing her for two seasons, is there anything you've learned from her?
I really admire her. She's very smart and caring. I always want her to be like the Hermione Grainger of the show – the smartest person in the room who comes in and gets the job done.
6. Any fun behind-the-scenes stories you can share?
Oh, there are so many. It's hard to think of one on the spot. We just have a lot of fun. The only thing I can think of right now is that when we have a lot of medical dialogue to memorize, we joke around a lot about it. We get to know it so well that we know each other's dialogue, and we rap it or do fun things with it.
7. Do you have any other projects you're working on besides Transplant?
Not right now because it's a 10 month shoot, so it takes up all of my time.
8. What has the fan response been like for you so far?
It's been wonderful. Fans have been really nice and it's great that we have so many fans and viewers. Now it's crossed over the border, so that's nice.
9. Anything else you'd like to say to the fans?
Just thank you for watching and I hope you enjoy this season.
Check out our previous interview with her!
MORE INFO:
Laurence Leboeuf
Dr. Magalie "Mags" Leblanc
The bilingual actress (French and English) has been acting professionally since 10 years old and rose to stardom with multiple award nominations and wins. She has continuously booked leading roles in both television and film of French Canadian and English-Canadian productions.
Award wins for Leboeuf include the Gemeaux Awards (French Canadian Emmys) for Best Actress in the series "Les Lavigueur," Best Supporting Actress for her role in the series "Musee Eden" and Best Actress for her role in the series "Marche A. L'ombre," which also won her the Best Leading Actress award at the French Festival Séries Mania. She also won Best Actress for "Human Trafficking" (featuring Mira Sorvino and Donald Sutherland) at the ACTRA Awards (English Canadian SAG Awards). For her film work, Leboeuf won at the Prix Iris Awards (previously Jutra Awards) for Best Supporting Actress in "My Daughter, My Angel." Her indie action-comedy film "Turbo Kid" was widely received at the Sundance Film Festival.
Leboeuf was born to actor-parents and grew up surrounded by creative arts. Her dad owned a stage theater for 18 years, which allowed Leboeuf to explore the behind-the-scenes of the craft. She is driven by the passion of acting and the need to be creative with plans to produce and write. Leboeuf enjoys reading and staying active with running, snowboarding and loves to travel.
Transplant
Sundays on NBC (10-11 p.m. ET); Season Premiere: March 6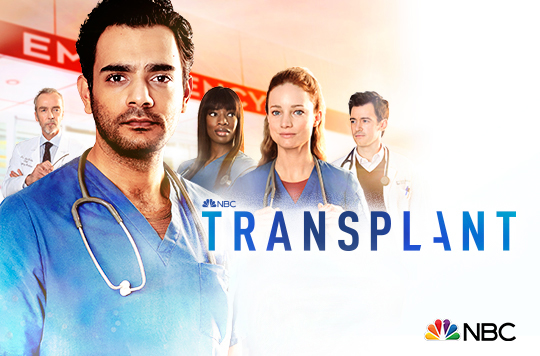 "Transplant" follows the story of Dr. Bashir "Bash" Hamed (Hamza Haq), a talented doctor and Syrian refugee, who fled his war-torn country with his younger sister, Amira (Sirena Gulamgaus), for a fresh start in Canada. After a truck crashes into the restaurant where he's been working, Bash earns the chance to practice medicine again by using his field-honed skills to save multiple lives in brilliant fashion, including that of Dr. Jed Bishop (John Hannah), the Chief of Emergency Medicine at York Memorial Hospital in Toronto.
But Bash is told he'll need to redo his residency in Emergency Medicine from the bottom and despite his obvious talents intuition, and training, starting over is not an easy road and his life experience is not a perfect match for the strict protocols at York Memorial. Through perseverance he makes inroads, developing camaraderie with his new colleagues, including the driven Dr. Magalie "Mags" LeBlanc (Laurence Leboeuf), the reserved and ambitious surgical resident Dr. June Curtis (Ayisha Issa), easy-going pediatric ER physician Dr. Theo Hunter (Jim Watson), head nurse Claire Malone (Torri Higginson) and even earning the respect of Dr. Wendy Atwater (Linda E. Smith), the department's second-in-command who runs a very tight ship.
Jed Bishop (John Hannah), the team's demanding, inscrutable boss, looms large and keeps everyone on their toes with a unique compassion and commitment to his staff that also connects them.
Season two picks up with Bash and his fellow residents reeling after Dr. Bishop suffers a stroke. With everything at the hospital destabilized, the place that Bash had started to consider home suddenly feels precarious. As the team adjusts to new colleagues while dealing with the challenges of life, unexpected faces from the past leave Bash seriously doubting whether his transplant into this new world was successful.
Bash's hard work, compassion and hopefulness tell a universal story about the human ability to not only survive, but ultimately thrive when our lives suddenly change course.
Creator Joseph Kay returns as showrunner and executive producer. Director Stefan Pleszczynski joins as executive producer and will direct six episodes. Additional executive producers include Bruno Dubé, Jocelyn Deschênes, Virginia Rankin, Tara Woodbury, Josée Vallée and Adam Barken.
"Transplant" is produced by Sphere Media in association with CTV and Universal International Studios, a division of Universal Studio Group.
Please visit the official show site at: https://www.nbc.com/transplant.
For the latest "Transplant" news, videos, and photos, please like us on Facebook and follow us on Twitter and Instagram:
https://www.facebook.com/NBCTransplant/
https://twitter.com/NBCTransplant #Transplant
https://www.instagram.com/nbctransplant/
Proofread and Edited by Brenda
Back to the Primetime Articles and Interviews Page