TV Interview!
Interview with creator/producer Joseph Kay of "Transplant" on NBC by Suzanne 10/10/23
It was great to speak with the creator/writer/executive producer of such a good show as "Transplant," which returns for season 3 October 12th! It's a Canadian show, and they're watching season 4 right now (which, unfortunately, is the last season). You don't want to miss this one! If you haven't watched the first two seasons, go watch them now on Peacock! You'll be glad you caught up on some a unique show with interesting characters.
MORE INFO:  Official NBC Site Trailer
Transplant
New Season Premiering Thursday, October 12 on NBC (9 p.m. ET)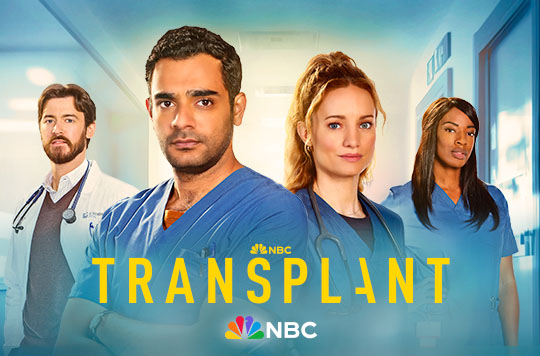 The new season of "Transplant" finds Bashir "Bash" Hamed (Hamza Haq, "My Salinger Year") continuing his journey to start over, but with each new milestone comes a new challenge. While pursuing Canadian citizenship for himself and his younger sister, Amira (Sirena Gulamgaus, "Orphan Black), Bash closely examines who he's becoming in his adopted country.
Bash, still being asked repeatedly to prove himself, works closely with his colleagues as they move forward following the dramatic conclusion of season two. Everyone continues to find themselves looking to adapt to change and understand how they fit in, both within and beyond the walls of York Memorial Hospital.
After Dr. Bishop's shocking departure, the team gains a new boss with the forward-thinking Dr. Neeta Devi (Rekha Sharma, "Yellowjackets"). Dr. Devi has big ideas when it comes to overhauling the emergency department at York Memorial.
"Transplant" also stars Laurence Leboeuf as Dr. Magalie "Mags" LeBlanc, Ayisha Issa as Dr. June Curtis, Jim Watson as Dr. Theo Hunter, Torri Higginson as head nurse Claire Malone, Gord Rand as Dr. Mark Novak and Sirena Gulamgaus as Amira.
Creator Joseph Kay serves as showrunner and executive producer. Rachel Langer, Josée Vallée, Jocelyn Deschênes, Bruno Dubé, and Stefan Pleszczynski also executive produce.
"Transplant" is produced by Sphere Media in association with CTV and Universal International Studios, a division of Universal Studio Group.
Please visit the official show site at: https://www.nbc.com/transplant.
For the latest "Transplant" news, videos, and photos, please like us on Facebook and follow us on Twitter and Instagram:
https://www.facebook.com/NBCTransplant/
https://twitter.com/NBCTransplant #Transplant
https://www.instagram.com/nbctransplant/
Joseph Kay
Executive Producer, "Transplant"
Joseph Kay is creator, showrunner and executive producer on the NBC drama "Transplant." He has served as showrunner, writer and executive producer for each of its seasons, winning four Canadian Screen Awards in his roles as writer and producer.
Prior to "Transplant," he adapted and served as executive producer on the CBC drama "This Life." Previous credits include the World War II drama "Bomb Girls" for Global TV and the CBC hit action/comedy "Republic of Doyle."
Kay also co-created the single-camera comedy "Living in your Car" for HBO Canada.
Before becoming a screenwriter, he worked as a transactional lawyer at one of Canada's foremost securities law firms.
Our previous "Transplant" interviews!
Hamza Haq (Bash) 7/12/22
Laurence Leboeuf (Mags) 3/29/22
 John Hannah and Hamza Haq (Bishop and Bash) 3/1/22
Laurence Leboeuf (Mags) 10/30/20
Hamza Haq (Bash) 10/9/20
Proofread and Edited by Brenda
Back to the Primetime Articles and Interviews Page