TV Review!
"United States of Al" on CBS Review on by Eva 4/4/2021
I was really interested in this show because the commercials for the it looked funny. It is funny, but not as much as I thought it would be.
The story revolves around Riley (Parker Young), a Marine combat veteran who is having trouble adjusting to his life back home in Ohio. Riley decides to help his friend Awalimir (Adhir Kalyan) – or Al for short – and his family get out of Afghanistan. Al was Riley's interpreter, and that's why the two men formed a close friendship. Al saved Riley's life. The comedy arises as the audience watches Al adjust to life in America, which leads Riley and his family being appreciative of the opportunities they have had in America. Al is also determined to reunite Riley with his wife because they are in the process of a divorce.
I like several things about the show, such as the strong brotherly friendship between Al and Riley.  It's heartwarming and touching that these two men have shared so much that they consider each other family. The relationship is my favorite part of the show and the reason I will keep watching it – to give it a chance to improve and get funnier. The jokes didn't make me laugh because I have seen some version of the jokes in other fish-out-of-water type comedies. I think that the cast needs time to mesh together so they become a group that works together well. If the show can write jokes that are funny, and the cast can work together better, I think this show will do well. I think that you should give it a chance because it's a show that needs some time to warm up and come into its own. I give this show a 3 out of 5 stars.
MORE INFORMATION:
ADHIR KALYAN AND PARKER YOUNG STAR IN A NEW COMEDY ABOUT THE FRIENDSHIP BETWEEN A MARINE COMBAT VETERAN AND THE INTERPRETER WHO SERVED WITH HIS UNIT IN AFGHANISTAN, ON THE SERIES PREMIERE OF "UNITED STATES OF AL," THURSDAY, APRIL 1
Series Hails From Award-Winning Executive Producers Chuck Lorre, David Goetsch and Maria Ferrari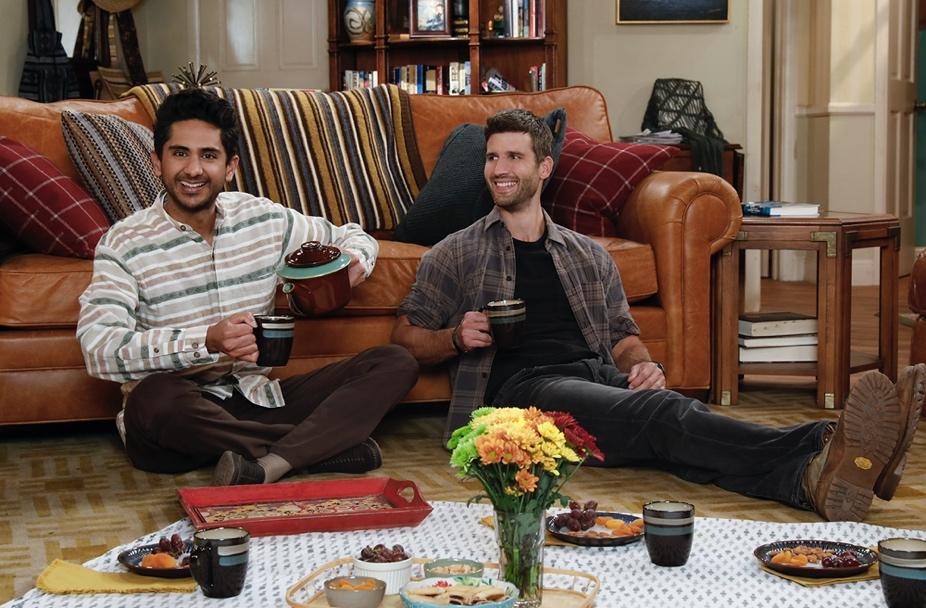 Dean Norris, Elizabeth Alderfer, Kelli Goss and Farrah Mackenzie Also Star
"Pilot" – Marine veteran Riley, home at last after serving in Afghanistan, is happily reunited with his friend Awalmir, who goes by Al, the interpreter with his unit, after a long struggle to get him a visa to travel to the United States from Afghanistan, on the series premiere of UNITED STATES OF AL, Thursday, April 1 (8:30-9:00 PM, ET/PT) on the CBS Television Network.
Riley (Young), a marine combat veteran, is struggling to adjust to civilian life in Ohio and the interpreter, Al (Kalyan), who served with his unit in Afghanistan, has just arrived to start a new life in America. Dean Norris stars as Art, Riley's father; Elizabeth Alderfer stars as Lizzie, Riley's sister; Kelli Goss stars as Vanessa, Riley's ex-wife and Farrah Mackenzie stars as Hazel, Riley and Vanessa's daughter.
REGULAR CAST:
| | |
| --- | --- |
| Adhir Kalyan | (Al) |
| Parker Young | (Riley) |
| Dean Norris | (Art) |
| Elizabeth Alderfer | (Lizzie) |
| Kelli Goss | (Vanessa) |
| Farrah Mackenzie | (Hazel) |

WRITTEN BY: David Goetsch & Maria Ferrari
DIRECTED BY: Mark Cendrowski
Proofread and Edited by Brenda
The opinions in these articles are those of the writer and do not necessarily reflect the opinions of TVMEG.COM or its other volunteers.