TV Interview!
Interview with Diandra Lyle of "Bel-Air" on Peacock and "Secrets of Sulphur Springs" on Disney by Suzanne 3/14/23
It was great to speak to Diandra, who plays Jess on the Disney show "Secrets of Sulphur Springs" (Harper's mother).  She also plays Erica on "Bel-Air," which was just renewed for a 2nd season, and she guest-starred on "Quantum Leap" a few weeks ago. She's on fire! Make sure to watch "Bel-Air" Thursdays on Peacock and "Secrets of Sulphur Springs" Fridays on Disney!
MORE INFO:
Diandra recurs in the 2nd season of Bel-Air on Peacock!

Fun fact: the first season was Peacock's most streamed original series!
Premise: Bel-Air re-envisions the 1990s Will Smith sitcom The Fresh Prince Of Bel-Air as a drama, hails from Jada Pinkett Smith and Will Smith's Westbrook Studios and Universal Television, part of Universal Studio Group.

She also reprises her role of 'Jess Dunn' in Disney Channel's time-traveling mystery-adventure series Secrets of Sulphur Springs – Season 3 premieres Friday, March 24th at 8pm ET/PT on Disney Channel. In addition, the first 2 seasons are available to stream on Disney+.
Lastly, she also guest starred in the current season of NBC's reboot of Quantum Leap.
Diandra has also starred in Apple TV's Beauty and the Baller, recurred on Paramount Network's American Woman and on NCIS, and has had roles in Shameless, Bones, A24's Moonbase 8 and General Hospital, among other shows. On the film front, she has appeared in Foster Boy, starring Matthew Modine and Always A Bridesmaid, among others.
Instagram: @diandralyle
Twitter: @diandralyle
Facebook: Diandra Lyle
THE FRESH PRINCE CONTINUES HIS REIGN:
PEACOCK'S CRITICALLY ACCLAIMED DRAMA BEL-AIR LANDS A THIRD SEASON RENEWAL  
Series Comes From Westbrook Studios and Universal Television 
Season Two Trailer HERE
Watched it at https://www.peacocktv.com/stream-tv/bel-air**    
Peacock's record-breaking drama series BEL-AIR has been renewed for a third season. Inspired by Morgan Cooper's lauded short film, BEL-AIR is a modern-day reimagining of the iconic culture-defining '90s sitcom, The Fresh Prince of Bel-Air.
Following its launch on Peacock last year as the streamer's most-watched original premiere, Bel-Air is once again breaking records on the platform as Peacock's most-watched original sophomore series to date.
BEL-AIR is produced by Universal Television, a division of Universal Studio Group and Westbrook Studios. Carla Banks Waddles serves as showrunner, writer and executive producer.
New episodes stream Thursdays through April 27. Season two stars Jabari Banks, Adrian Holmes, Cassandra Freeman, Olly Sholotan, Coco Jones, Akira Akbar, Jimmy Akingbola, Jordan L. Jones and Simone Joy Jones.
Season two saw the return of Tatyana Ali, who played the original Ashley Banks from The Fresh Prince of Bel-Air, and makes a recurring guest star appearance.
Morgan Cooper (executive producer) wrote and directed the four-minute spec trailer, debuting the video on social media in March 2019 and quickly went viral. The trailer currently has over 7.5 million views on YouTube.
The season three renewal of BEL-AIR joins the additional renewals of Peacock Original series POKER FACE, PITCH PERFECT: BUMPER IN BERLIN, WOLF LIKE ME, KILLING IT, DR. DEATH and WE ARE LADY PARTS.
ABOUT BEL-AIR SEASON 2:
Set in modern-day Los Angeles, Peacock's successful one-hour drama series Bel-Air imagines the beloved sitcom The Fresh Prince of Bel-Air through a new, dramatic take on Will's complicated journey from the streets of West Philadelphia to the gated mansions of Bel-Air. As these two worlds collide, Will reckons with the power of second chances while navigating the conflicts, emotions, and biases of a world far different from the only one he's ever known.
Season two of Bel-Air picks up with Will at a crossroads as a new figure comes into his life who challenges what he's learned in Bel-Air and competes for control of his influence. He juggles this while navigating his home life with the Banks family and trying to rebuild the trust that was broken at the end of last season. We'll see Will and Carlton's brotherhood start to evolve as they grow closer, but still challenge each other about their differences. We'll also see Hilary evolve as she becomes more of a boss in her influencer world and how that spills over into her relationship with Jazz, and also highlight the relatable struggles around Viv and Phil balancing marriage and family while trying to forge their own career paths and reconnect to the things that are important to them.
Inspired by Morgan Cooper's viral trailer that reimagined the iconic, culture-defining '90s sitcom, Bel-Air takes a fresh and raw approach to this world of swagger, style, and aspiration, while exploring Will's complex journey through a current lens. The series features an ensemble cast that introduces new sensation Jabari Banks as Will and a creative team that includes showrunner, executive producer and writer Carla Banks Waddles and Cooper, who serves as executive producer.
ABOUT SEASON 2:
Showrunner / Writer / Executive Producer: Carla Banks Waddles
Executive Producers: Morgan Cooper, Anthony Sparks, Malcolm Spellman, Will Smith, Terence Carter, James Lassiter, Miguel Melendez, Benny Medina, Quincy Jones, Andy & Susan Borowitz, TJ Brady & Rasheed Newson
Produced By: Universal Television, a division of Universal Studio Group, and Westbrook Studios
Season 2 Format: Drama series, 10 Episodes X 60 min
Series Regulars: Jabari Banks (Will), Adrian Holmes (Phillip Banks), Cassandra Freeman (Vivian Banks), Olly Sholotan (Carlton Banks), Coco Jones (Hilary Banks), Akira Akbar (Ashley Banks), Jimmy Akingbola (Geoffrey), Jordan L. Jones (Jazz), Simone Joy Jones (Lisa)
Season 2 Appearances by: Tatyana Ali, Karrueche Tran, Saweetie, Daphne Maxwell Reid, Riele Downs, Jazlyn Martin, Brooklyn McLinn, Jerris DuPree, Al-Shabazz Jabateh, Nicholas Duvernay, Diandra Lyle, Justin Cornwell and Reno Wilson
What Is Lurking in Room 205?
Disney Branded Television Reveals Official Trailer and Key Art for Season Three of Disney Channel's 'Secrets of Sulphur Springs'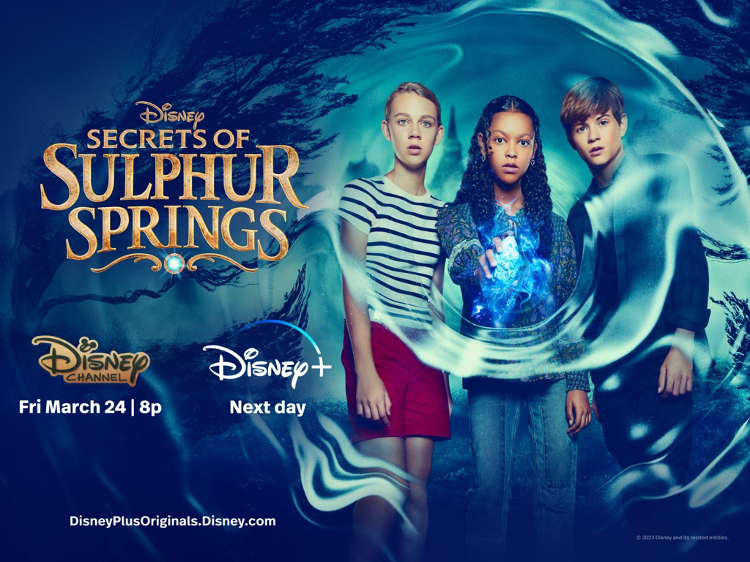 Disney Branded Television*
TRAILER: HERE
Disney Branded Television revealed today the trailer and key art for season three of the Disney Channel series "Secrets of Sulphur Springs." The series, created and executive produced by Tracey Thomson and Charles Pratt Jr., who serves as showrunner and executive producer, follows the adventures of Griffin Campbell and his family when they move into The Tremont, a hotel with a paranormal past. The Children's and Family Emmy® Awards-nominated series premieres on Friday, March 24. All episodes are available the next day on Disney+.
In season three of "Secrets of Sulphur Springs," a new ghost checks into room 205 and starts wreaking havoc around The Tremont. After learning the evil presence will ruin their lives by 2024, the kids race to solve a tangled mystery in the past. This could be the key to defeating the ghost in the present and saving the Dunns and the Campbells from a very bleak future.
The series stars Preston Oliver ("This is Us") as Griffin Campbell, Kyliegh Curran ("Doctor Sleep") as Harper Dunn, Elle Graham ("Are You There God? It's Me, Margaret") as Savannah Dillon, Kelly Frye ("Criminal Minds") as Sarah Campbell, Josh Braaten ("American Horror Story") as Ben Campell, Landon Gordon ("Top Gun: Maverick") as Wyatt Campbell, Madeleine McGraw ("Black Phone") as Zoey Campbell, Diandra Lyle ("American Woman") as Jess Dunn, Johari Washington ("The Walk-On's") as Topher Dunn and Eugene Byrd ("Bones") as Sam Tremont.
About Disney Branded Television
Disney Branded Television encompasses the creative storytellers and production and content marketing teams responsible for Disney-branded television series, movies and other programming spanning live-action, animated and unscripted formats. The group fuels the Disney+ streaming platform and Disney Channel, Disney XD and Disney Junior linear networks with content geared toward kids, tweens, teens and families, with stories that are imaginative, aspirational and reflective of their world and experiences. Recent projects include "High School Musical: The Musical: The Series," "Monsters at Work," "The Mysterious Benedict Society" and "Marvel's Spidey and his Amazing Friends." Disney Branded Television has created some of the most iconic and award-winning properties and franchises, including Peabody Award winners "Doc McStuffins" and "The Owl House"; Emmy Award winners "Big City Greens" and "Elena of Avalor"; the beloved "Mickey Mouse" cartoon shorts plus the Disney Channel Original Movie (DCOM) franchise, comprised of more than 100 titles.
Air Date: 03/24/2023 "Time Won't Let Me"
Griffin, stuck in the future, learns the ghost ruins their lives. Harper and Savannah try bringing him back to the present.
Air Date: 03/24/2023 "Time in a Crystal"
Harper and Savannah retrieve Griffin from the future. Sam and Griffin face the grimmest truth, Topher is in a coma in 2024. The twins and Topher almost catch Savannah's "ghost."
Air Date: 03/31/2023 "Closing Time"
The twins arrive in the past and find Savannah. Griffin and Harper realize they need to go back to 1947 just as Ben makes the bunker off-limits.
Air Date: 04/07/2023 "Bad Judge of Time"
The kids learn the ghost has been listening to them and is changing up his malevolent plans.
Air Date: 04/14/2023 "Time Waits for No One"
In 1947, Harper and Griffin meet Ruby. Sarah becomes increasingly freaked out by the ghost.
Air Date: 04/21/2023 "Time Reveals All"
Returning to the past, Griffin and Harper watch a murder unfold. The twins and Topher go to an unknowingly familiar someone for help.
Air Date: 04/28/2023 "Scream Time"
It's time to get rid of the ghost.
Proofread and Edited by Brenda
Back to the Primetime Articles and Interviews Page