TV Interview!
Interview with Executive Producer Don Mancini, actors Zackary Arthur, Björgvin Arnarson, Brad Dourif, Alyvia Alyn Lind, Devon Sawa, and Jennifer Tilly of "Chucky" on Syfy by Suzanne 9/15/22
"Chucky" Season 2: Executive Producer and Cast Share Behind-the-Scenes Insights
Virtual via Zoom – September 15, 2022 – In a fun TCA panel discussion, executive producer Don Mancini and cast members of the hit USA Network and SYFY series "Chucky" offered a glimpse into the upcoming season. The show, which garnered immense popularity in its first season, will return on October 5 at 9:00 p.m. on both networks. Fans of the film franchise and newcomers alike will be treated to a thrilling continuation of the story, as Chucky seeks revenge on those he holds responsible for foiling his plans in the previous season.
The panel consisted of Don Mancini, the showrunner and executive producer, along with actors Zackary Arthur, Björgvin Arnarson, Brad Dourif, Alyvia Alyn Lind, Devon Sawa, and Jennifer Tilly. The discussion covered various aspects of the show, including the Catholic background that influenced Mancini's storytelling, the evolution of Chucky's character, and the actors' favorite moments from the series.
When asked about his Catholic background and its impact on the show, Mancini revealed that he was raised Catholic but attended an Episcopalian school in eighth grade, which exposed him to different aspects of the Catholic Church. This intersection between Chucky and religious themes intrigued him, as the character often subverts authority figures and challenges institutions.
Mancini also explained how Chucky seamlessly transitioned from the film franchise to the TV series format. He attributed the character's enduring popularity to Brad Dourif's unforgettable performance as Chucky and the skill of the puppeteers who bring the doll to life. Furthermore, the serialized narrative storytelling, which the films had already established, allowed the TV series to delve deeper into character development and explore different sub-genres of horror.
The cast members shared their own experiences and favorite moments from the show. Devon Sawa expressed his excitement about returning for another season and the joy of working with young actors. He particularly enjoyed the video game scene from the previous season. Alyvia Alyn Lind highlighted the scene where Chucky flips them off, as it showcased the characters coming together and created an unforgettable moment. Björgvin Arnarson praised Chucky's manipulative nature and the surprising twists it brought to the story. Zackary Arthur mentioned the "Snug as a fucking bug in a rug" line and the creepy lullaby scene as his favorites.
Reflecting on the evolution of Chucky's character over the years, Brad Dourif acknowledged Don Mancini's creative vision as the driving force behind it. He commended Mancini's ability to adapt to changing horror trends and continually challenge the character, making each season an exciting and daunting experience for him.
As the panel concluded, the cast expressed their gratitude for the opportunity to work on the show and their excitement for future seasons. Despite the challenges and emotions that come with wrapping up each season, the camaraderie among the cast and crew made the experience rewarding.
With the return of "Chucky" just around the corner, fans can anticipate an exhilarating second season that pushes the boundaries of horror and explores new depths of the beloved character. The series continues to captivate audiences and carve its own path in the horror genre, thanks to the creative genius of Don Mancini and the exceptional performances of the talented cast.
MORE INFO: Chucky
"Chucky" Season 3 coming Fall 2023 on USA & SYFY.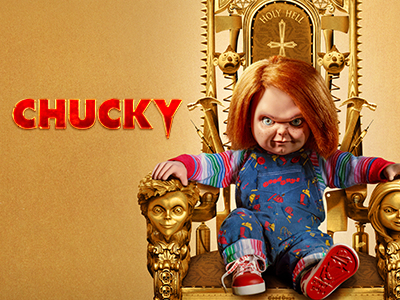 CHUCKY is a continuation of the iconic film franchise chronicling the murderous escapades of the notorious killer doll. In the TV series, Chucky crosses paths with archenemies, old allies and new prey, as he seeks to inspire fear and mayhem wherever he goes. After his diabolical plan to invade America's children's hospitals was foiled in season one, Chucky now seeks revenge on those he holds responsible: surviving teens Jake (Zackary Arthur), Devon (Björgvin Arnarson) and Lexy (Alyvia Alyn Lind), along with his ex Tiffany, now his sworn enemy. Meanwhile, can "Jevon" make it as a couple in the face of adversity at their new Catholic school, not to mention a brand-new onslaught of terror from the demon doll?
The series is produced by UCP, a division of Universal Studio Group, and executive produced by Don Mancini, Nick Antosca, Alex Hedlund, David Kirschner and Jeff Renfroe.
Don Mancini
Executive Producer, "Chucky"
Don Mancini is the creator and an executive producer of the hit USA Network series "Chucky."
Mancini created one of the most terrifying and iconic horror villains of all time with Chucky, the red-haired, freckle-faced doll possessed by the soul of a serial killer. Chucky slashed his way into the pop culture zeitgeist in 1988 with the premiere of "Child's Play" and the franchise now includes six sequels.
Mancini is not only a standout figure in queer horror, he's also one of the only franchise creators of any genre to continue overseeing his creation for over 30-plus years
Additionally, Mancini served as a writer and producer on "Hannibal" and "Channel Zero" as well as co-writer on "Tales From the Crypt."
Brad Dourif
Chucky (Voice), "Chucky"
Brad Dourif plays the devilish title character in the hit USA Network series "Chucky."
Over the course of a lengthy career, Dourif has appeared in more than 50 feature films, winning a BAFTA Award and being nominated for an Oscar and Golden Globe Award for supporting actor in the iconic Jack Nicholson-starrer "One Flew Over the Cuckoo's Nest." Other films on Dourif's resume include "Dune," "Blue Velvet" and "Mississippi Burning." He is also known for his work on the "Lord of the Rings" franchises.
On the television side, Dourif played Doc Cochran on the mesmerizing HBO Western "Deadwood," from David Milch. For his work on the show," Dourif earned an Emmy Award nomination for Outstanding Supporting Actor in a Drama Series.
Jennifer Tilly
Tiffany Valentine, "Chucky"
Jennifer Tilly plays Tiffany Valentine in the USA Network drama "Chucky."
Tilly received an Academy Award nomination for her role in Woody Allen's "Bullets Over Broadway" and earned an American Comedy Award nomination for "Liar Liar," opposite Jim Carrey.
Tilly's film credits include "Bound," "The Getaway," "The Fabulous Baker Boys," "Dancing at the Blue Iguana," "Bride of Chucky" and "The Doors."
On the TV side, Tilly has appeared on "Modern Family," "Hill Street Blues," "It's Garry Shandling's Show," "Moonlighting," "Cheers," "Frasier," "Drop Dead Diva," and "CSI." For the last 11 years, she's been doing voiceover work for Fox's "Family Guy" as well as the films "Monster's Inc.," "Monsters at Work," "Home on the Range," "Stuart Little" and "The Haunted Mansion."
Equally at home on stage, Tilly has many theater credits under her belt, including "Tartuffe," (LA Public Theatre) "Boy's Life" (LAAT), "Baby With the Bathwater," (LAPT) and "Vanities," (Dramalogue Best Actress Award). She received a TheatreWorld Award for Best Newcomer for her performance in Second Stage's "One Shoe Off" at the Joseph Papp Theatre. On Broadway in 2001, she co-starred in "The Women" with Cynthia Nixon and Kristen Johnson, and then returned to Broadway to co-star in "Don't Dress for Dinner" in 2012.
She appeared with Miranda Richardson in the critically acclaimed world premiere of Wallace Shawn's play "Grasses of a Thousand Colors" at the Royal Court Theatre in London. She then reprised her role in the American premiere at the Joseph Papp Theater.
Tilly is a skilled poker player and won a gold bracelet at the World Series of Poker in 2005.
Björgvin Arnarson
Devon Evans "Chucky"
Björgvin Arnarson plays Devon in the hit USA Network drama series "Chucky."
Arnarson is a globetrotting military kid, discovered his love for acting after he booked his first role on Bounce TV's "Family Time" sitcom. His recent credits include the series "PEN15" and the feature film "The Seventh Day."
He pursued acting from a young age, participating in theater and making short films. When Björgvin is not on set, he's an entrepreneur and filmmaker, active in the local art scene. He also plays piano and studies digital arts.
Zackary Arthur
Jake Wheeler, "CHUCKY"
Zack Arthur plays Jake Wheeler on the USA Network hit series "Chucky."
Most recently, he lent his voice to "Secret Agent Dingledorf and His Trusty Dog Splat" and was previously seen in "Mississippi Requiem." Upcoming, he's set to co-star in "Jill" with Tom Pelphrey ("Ozark").
Arthur made his feature film debut in "The 5th Wave" and additional movie credits include "Hero Dog: The Journey Home," "The American Boys," "Don't Come Back from the Moon" and "Mom and Dad."
He's perhaps best well known for his role in Amazon's Emmy Award-nominated series "Transparent," appearing in 19 episodes throughout the show's five seasons along co-star and Emmy winner Jeffrey Tambor.
Arthur has also guest-starred on a variety of TV projects, including Jim Carrey's Golden Globe-nominated comedy series "Kidding," Pamela Adlon's Peabody Award-winning FX series "Better Things" and David Hollander's critically acclaimed Showtime series "Ray Donovan." Additional television credits include "Borrasca," "SWAT," "Teachers," "Grey's Anatomy," and "Best Friends Whenever."
He currently resides in Los Angeles with his family.
Alyvia Alyn Lind
Lexy, "Chucky"
Alyvia Alyn Lind grew up in Los Angeles in a houseful of actresses. She began her career at the age of 3 and at such a young age, has an impressive list of credits.
Alyvia is presently in production on the highly anticipated USA/SyFy television series "Chucky," produced by NBC/Universal, playing the entitled, privileged "mean girl" 'Lexy Cross.'
Lind is also a series regular in the popular, post-apocalyptic, genre-bending "Daybreak" currently streaming on Netflix, playing the role of 'Angelica Green,' a highly unstable kid genius.
Alyvia is often recognized for playing Anna Faris's daughter in the remake of the comedy classic "Overboard." She recently completed season 2 of "Futureman" with Josh Hutcherson, produced by Seth Rogen, airing on Hulu. She can also be seen in the Netflix original film, "Walk. Ride. Rodeo."
Alyvia is best known for her portrayal of the living legend, Dolly Parton, in the NBC Universal telefilm, "Coat of Many Colors," and immediately following, "Christmas of Many Colors: Circle of Love," which was nominated for a Primetime Emmy Award. Alyvia was recognized by the prestigious Critics' Choice Awards by being nominated in the adult category at seven years old, for Best Actress alongside Rachel McAdams, Kathy Bates, and Kirsten Dunst, and she was also nominated and won the Movieguide's Grace Award for Best Actress. Not only did the MOW break records with 18.6 million viewers, which made COMC the highest-rated movie or miniseries on the broadcast networks in six years, the film walked away with numerous awards, including The Tex Ritter Award and the coveted Epiphany Prize given by the Movieguide Awards. One of Alyvia's favorite parts of working on the film was singing her solos, and recording "Angel Hill," an original duet with Dolly Parton.
Alyvia was also seen in the Amazon original movie "An American Girl Story – Maryellen 1955: Extraordinary Christmas" playing the lead character, a young girl who sets her mind to helping children with polio. In conjunction with the film, Aly teamed up with Lollipop Theatre Network to help bring awareness to children with life-threatening illnesses.
Alyvia is also known for the much publicized, campy Lifetime movie, "A Deadly Adoption" where she enjoyed the enviable role of Will Ferrell's and Kristen Wiig's kidnapped daughter.
One of Aly's career highlights was playing Adam Sandler's daughter in the Warner Bros. film "Blended" alongside Drew Barrymore and Bella Thorne. Alyvia plays the precocious and sweet 'Lou Friedman,' the youngest daughter of Sandler.
Alyvia's television credits include the ABC hit series "Revenge," playing the five-yearold 'Amanda Clarke,' the wisecracking 'Charlotte,' on the Nick@Nite comedy "See Dad Run" with Scott Baio, 'Annika,' a foreign exchange student (she learned to speak Swedish for the role) in the TNT comedy "Teachers," "Gamer's Guide" for Disney, 'Sasha' on "Alexa and Katie" for Netflix,' Lily' on the Ryan Murphy Fox hit "9-1-1," and she can still be seen (since the age of 3) in the television daytime drama "The Young and the Restless" as 'Faith Newman,' in which she was Emmy nominated for Outstanding Younger Actor in a Drama Series in 2017 at the age of 9 and is again nominated for her work in 2020.
On the big screen, Lind appeared in Dimension Film's "Dark Skies" (2013) with Keri Russell and Josh Hamilton, and was seen in Universal Pictures' "Mockingbird," a thriller starring Spencer List, and the feature film "Shangri-La Suite" opposite Ashley Greene and Emily Browning in which Alyvia portrays Lisa Marie Presley.
Alyvia is also known for her recurring role, 'Gracie,' on the groundbreaking, award winning Amazon show "Transparent", and the critically acclaimed "Masters of Sex" for Showtime, playing 'Jenny,' Michael Sheen's and Caitlin Fitzgerald's daughter.
Alyvia grew up with two older sisters, Natalie and Emily, (both actresses) in an animalloving home. She has a passion for dogs and her favorite pastime is being a mom to her rescued malti-poo named "Georgie," and her new goldendoodle puppy, "Rocky Lou." In her spare time, she likes to record songs and make movies with her sisters, practice guitar, write music and dance. Alyvia has grown up watching her mom, actress Barbara Alyn Woods ("One Tree Hill" and "Honey, I Shrunk the Kids") and looks up to her for acting inspiration.
Devon Sawa
Logan Wheeler / Lucas Wheeler, "Chucky"
Dewon Sawa plays Father Bryce on the hit USA Network drama series "Chucky."
Born in Vancouver, Sawa is an industry veteran having gotten his start in such films as "Casper," "Now and Then" and "Little Giants." He soon became a household name after starring in the iconic horror franchise "Final Destination" as well as cult favorites "Idle Hands" and "SLC Punk" as well as its sequel, "Punk's Dead." He also starred opposite Sylvester Stallone and Dave Bautista in "Escape Plan: The Extractors," opposite John Travolta in "The Fanatic" and opposite Guy Pearce in "Disturbing the Peace."
On the TV side, Sawa can be seen on the HBO Max series "Hacks." He also appeared on the CW's "Nikita" as both Owen Elliot and Sam Matthews, a Special Forces operative with multiple personalities.
Proofread and Edited by Brenda
Back to the Primetime Articles and Interviews Page
Follow Us!