TV Interview!
Interview with actors Miia Harris, Ceci Balagot, Nayah Damasen, and Case Walker and EP's Todd Holland, Adam Bonnett and Phil Breman on Paramount+/Nickelodeon by Suzanne 9/21/22
This TCA panel was for a new Halloween special movie based on the popular animated series and children's dolls, "Monster High." It airs Thursday, 10/7.  It was fun seeing how excited everyone was.
PARAMOUNT+
2022 TCA PRESS TOUR
MONSTER HIGH
Todd Holland, Executive Producer & Director
Adam Bonnett, Executive Producer
Phil Breman, Executive Producer
Miia Harris
Ceci Balagot
Nayah Damasen
Case Walker
Virtual via Zoom
September 21 2022
© 2022 Paramount+ All rights reserved.
First we had an introduction from Todd Holland, and he played us a musical clip from the show.
I had researched the cast, and the only one that I knew very well at all was Nayah, who was on "Grey's Anatomy." I asked her how working this fantasy setting was different from working in her past projects, which were mostly set in the real world.
She agreed that this movie was the most extensive fantasy experience that she's had. She maintained, "it's not every day you are painted pink and waking up at 3:00 in the morning," but she enjoyed it. Getting to play a monster is very different from real life. However, these monsters do "go through very real human experiences." Of course that's true because otherwise it wouldn't be very relatable for viewers. She went on to say that her character, Draculaura, is "trying to find her place
in the monster world." Similar to the other characters she's played, they're young kids growing up and trying to figure out who they are. She compared Draculaura to her character, Kimmie Park, in Grey's. They both love to sing but are prevented from doing that, so they have "that same predicament."
There were many other reporters there asking questions. The first one asked the cast what it was that they made them want to do the movie. Miia grew up loving "Monster High," and she would "pretend to be Clawdeen Wolf and howl at the moon very
proudly in public." She remembers that the show had a big impact on her, and it was great to identify with such a "cool character," especially being "a person of color." She's glad to have the opportunity to do that for other children and to create "that safe space for kids everywhere."
Ceci admitted that she was a "really weird kid" and liked spooky and creepy things. She also grew up "singing
and dancing." The movie gave her an opportunity to sing, dance and be spooky on screen, so she loves it.
Nayah is another one who grew up watching old musicals, and being in a movie musical is her dream job. She's also happy to be part of the MH franchise "with fashionable dolls and a really cool cartoon," which she loved as a little girl.
Case is another one who loves live-action musicals, and it was a dream for him to do this.
Another reporter spoke touchingly about her daughter, who's autistic and loves these characters. She had some questions from her little girl that she asked. She asked what the cast and producers there think about "old friends of the series" and how they're "reacting to the new characters." I think everyone here assumed that by "friends" she meant "fans" because that's how they answered it.
Todd explained that they love the fans and value them. They made the movie because of how popular the series is. However, he knows that some people have complained about changes, but he believes that inclusion is important. He explained that Mattel decided that it was time to "change the body types and broaden some of the character histories to include more people." He hopes that original fans will see how beautiful that message is and will enjoy the new dolls they come out with. The message is the same as it's always been: ""All monsters welcome," or as he said, "Be unique, be a monster, be yourself, and you
are invited." EP Phil added in his own opinion that they love how passionate the fans are. He said, "We like to consider them our alumni." He confided that he has to pre-teen daughters who are part of that group. He explained that "The
core tenants of the brand are still there from the inclusion and diversity and community, but most of all a sense of friendship." He ended by saying, "We are excited about introducing this new world to a whole new group of kids."
Miia was asked to discuss her musical background and whether she was surprised that she was able to get the chance to do a musical on TV. Miia told us that she grew up "in the musical theater world" and has been training her singing and dancing talents since she was 8. Once she hit high school, developed a "deep passion for songwriting," which led to her singing publicly for money in her hometown. Professionally, she's mostly done acting, but she's always wanted to include music as well, so to do both things she loves is "a dream come true." She said that she's "a very happy monster."
The same reporter asked if Todd or Adam wanted to add about the fun of creating the new music. Adam told us that the music mixes "many different genres," with all of them having something creepy in them, thanks to Todd's guidance. They tried to give all of their songs "their own really unique MONSTER HIGH personality." He praised the cast members for being so talented in acting, singing and dancing. Also, they had to do all of their casting over Zoom. The cast blew them away with their auditions in spite of the limitations.
Todd spoke about how crazy it was to do try to get the songs and have them performed in such a short amount of time, which he had never done before. Musicals are new to him. He has 12-year-old daughters who are triplets, so they helped him choose the songs to use. Some of the songs they didn't choose for the final cut were used in the background of the movie. He also mentioned that Nayah performs "with her Nickelodeon band Good News Girls."
Phil chimed in again to praise the production, the music and the performers.
Next, the cast were asked which was most difficult: Singing, dancing or something else?
Miia piped up to say that she loves dancing, but having to do them in very tall monster boots, with little "peripheral vision" (because of the monster contact lenses) was challenging.
Todd concurred, saying that whenever Miia stumbled, she would say, "I'm okay!" and they were always asking, "Are you all right?"
Adam pointed out that they had to always hide her human ears under the wig (since she has costume wolf ears), but she was always concerned about her eyes popping out during the musical numbers. He said that the actors had a lot of those type of things to worry about while also singing and dancing.
Case gave his point-of-view that "keeping it all together at the end of the day" could be tough because of the long days, but he said that when it all came together through all the hard work, it was worth it. He also added that being all together in it "was the best part."
Ceci said that what was tough for her was dancing with a big wig. She's used to ballet dancing, where your hair is usually slicked back. She noted that all of their "amazing dancers" had to do the same thing, but with really big shoes. She thinks it looks "effortless" on screen, so she's excited for everyone to see it. She thinks the filmed version looks more "relaxed" that how "stressed and diligent" they were during filming.
The next press person asked about how tough it was to take an animated show and make it a live-action musical and whether anyone had any criticism about it.
Todd admitted that it's difficult to take a cartoon character or doll and translate that into a regular teen. They had to adapt and change things that didn't work. There were a lot of conversations between them and Nickelodeon and Mattel to try to find the right look of the characters. That was difficult, and then how to make the live action people look realistic, like making "Frankie" blue and look real, not like "Halloween makeup." He praised their "brilliant department heads in hair, makeup, and costumes that worked very hard" to make it all work.
Adam and Phil complimented Todd for his vision in wanting the "monster world" to be fun but also more believable. They didn't want it to look like a cartoon. They hired "a brilliant production designer named Fred Andrews, who was just so smart and brought a level of sophistication to creating this world in Vancouver." He had to create this scary school that doesn't really exist, from scratch.
Phil noted that the main point of the show is friendship and being your "authentic self." He credits the actors for bringing these characters to life in that way.
The actors were asked if they were big fans of Halloween and how they celebrate it.
Ceci reiterated that she loves anything "spooky and scary." She and her brother have a "Halloween movie marathon" of scary or fun-scary movies for a month. She mentioned "Heathers," "Hocus Pocus" and the Peanuts Halloween special. She hopes that others that love watching these movies will add "Monster High" to their list.
Nayah told us that she loves the scary mazes at places like Universal and Knott's Berry Farm (in Southern California). She plans to go to the maze that has "OG monsters like Dracula and Frankenstein." She joked that she plans to go there and take a picture with Dracula, her father (in the movie). She loves to dress up in costume as well. During the filming of the movie, Halloween occurred, so they all dressed up like scary characters from "The Wizard of Oz."
Miia said that going to work on this movie was like "Halloween every single day," which to her was "really cool." She loves Halloween and dressing up. She plans to dress up this year "as the plant in 'Léon: The Professional.'"
Case also said that he loves Halloween and dressing up, but he's looking forward to next year when there are people dressing up as the characters from "Monster High: The Movie."
MONSTER HIGH: THE MOVIE premieres Thursday, October 6th, on Paramount+ and that same evening at 7 p.m. ET/PT on Nickelodeon.
MORE INFO: Trailer
MATTEL, NICKELODEON AND PARAMOUNT+ DEBUT TRAILER FOR MONSTER HIGH: THE MOVIE, LIVE-ACTION MUSICAL PREMIERING THURSDAY, OCT. 6
EL SEGUNDO, Calif. and HOLLYWOOD, Calif., June 30, 2022 /PRNewswire/ — Mattel, Inc. (NASDAQ: MAT), Nickelodeon and Paramount+ today revealed the premiere date and trailer for Monster High: The Movie, a live-action movie musical based on the iconic Monster High franchise about the children of famous monsters and creatures. Monster High: The Movie premieres Thursday, Oct. 6, at 7 p.m. (ET/PT) on Nickelodeon and streams that same day on Paramount+. The movie will encore on Nickelodeon on Friday, Oct.7, and Saturday, Oct. 8, at 7 p.m. (ET/PT). Internationally, the movie will premiere on Nickelodeon and Paramount+, beginning Oct. 6.
Monster High: The Movie follows Clawdeen Wolf (Miia Harris, Just Beyond), who was born half human and half werewolf, after she arrives at her new school, Monster High. She quickly makes friends with her classmates Frankie Stein (Ceci Balagot, Dispatches from Elsewhere) and Draculaura (Nayah Damasen, Grey's Anatomy), and for the first time in her life, Clawdeen feels like she has finally found a place where she fits in and can truly be herself, despite keeping her human half a secret. When a devious plan to destroy Monster High threatens to reveal her real identity, Clawdeen must learn to embrace her true monster heart and find a way to save the day alongside her new friends.
Monster High: The Movie also stars: Case Walker (The Other Two) as Deuce Gorgon; Kyle Selig (Mean Girls on Broadway) as Mr. Komos; Marci T. House (Day of the Dead) as Headmistress Bloodgood; Scotch Ellis Loring (Firehouse Dog) as Clawdeen's dad, Apollo; Steve Valentine (Mom) as Draculaura's dad, Dracula; Jy Prishkulnik (Just Beyond) as Cleo de Nile; Lina Lecompte (Death Pursuit) as Lagoona; Justin Derickson (When the Streetlights Go On) as Heath Burns; Lilah Fitzgerald (Honey Girls) as Ghoulia; and Nasiv Sall (Descendants 2) as Abbey Bominable. Additional fan-favorite characters from the Monster High universe will also be seen throughout the movie.
In addition to Monster High: The Movie, an animated series based off the beloved Mattel franchise is slated to premiere later this year on Nickelodeon. Both projects join other Mattel Television content in production, including series and specials based on Barbie, Masters of the Universe, Thomas & Friends, Polly Pocket, Pictionary and Fireman Sam, to name a few. Mattel first introduced Monster High in 2010, and it quickly became one of the most successful and beloved kids' properties of all time. The franchise seeks to foster a more accepting world where everyone is proud to be their authentic self, which is more relevant than ever. Today, Monster High is back with a reimagined set of fangtastic characters, inspired by the original ghouls, for a new generation that embraces what makes them unique and rallies people everywhere to express themselves.
Monster High: The Movie is directed and executive produced by Todd Holland (The Real O'Neals, Malcolm in the Middle, Firehouse Dog). The story is by Jenny Jaffe (Big Hero 6: The Series, Rugrats), Greg Erb, and Jason Oremland (Princess and the Frog, Playmobil: The Movie), and the teleplay is by Jaffe and Billy & Matt Eddy (Zapped, Teen Beach Movie). Adam Bonnett (Descendants franchise, Masters of the Universe: Revelation) serves as executive producer. Frederic Soulie, Senior Vice President & General Manager of Mattel Television and Phil Breman, Vice President of Live Action Development, oversee the movie for Mattel and serve as executive producers. Production on Monster High: The Movie for Nickelodeon is overseen by Zack Olin and Shauna Phelan, Co-Heads of Nickelodeon & Awesomeness Live-Action, along with executives Lee Rosenthal, Linda Halder and Jules Kovisars.
About Mattel
Mattel is a leading global toy company and owner of one of the strongest catalogs of children's and family entertainment franchises in the world. We create innovative products and experiences that inspire, entertain, and develop children through play. We engage consumers through our portfolio of iconic brands, including Barbie®, Hot Wheels®, Fisher-Price®, American Girl®, Thomas & Friends®, UNO®, Masters of the Universe®, Monster High® and MEGA®, as well as other popular intellectual properties that we own or license in partnership with global entertainment companies. Our offerings include film and television content, gaming, music, and live events. We operate in 35 locations and our products are available in more than 150 countries in collaboration with the world's leading retail and ecommerce companies. Since its founding in 1945, Mattel is proud to be a trusted partner in empowering children to explore the wonder of childhood and reach their full potential. Visit us online at mattel.com.
About Nickelodeon
Nickelodeon, now in its 43rd year, is the number-one entertainment brand for kids. It has built a diverse, global business by putting kids first in everything it does. The brand includes television programming and production in the United States and around the world, plus consumer products, digital, location-based experiences, publishing and feature films. For more information or artwork, visit http://www.nickpress.com. Nickelodeon is a part of Paramount's (Nasdaq: PARA, PARAA) global portfolio of multimedia entertainment brands.
About Paramount+
Paramount+, a direct-to-consumer digital subscription video on-demand and live streaming service, combines live sports, breaking news and a mountain of entertainment. The premium streaming service features an expansive library of original series, hit shows and popular movies across every genre from world-renowned brands and production studios, including BET, CBS, Comedy Central, MTV, Nickelodeon, Paramount Pictures and the Smithsonian Channel. The service is also the streaming home to unmatched sports programming, including every CBS Sports event, from golf to football to basketball and more, plus exclusive streaming rights for major sports properties, including some of the world's biggest and most popular soccer leagues. Paramount+ also enables subscribers to stream local CBS stations live across the U.S. in addition to the ability to stream CBS News Streaming Network for 24/7 news, CBS Sports HQ for sports news and analysis and ET Live for entertainment coverage.
For more information about Paramount+, please visit www.paramountplus.com and follow @ParamountPlus on social platforms.
PARAMOUNT+ PEAK SCREAMING RETURNS WITH MORE THAN DOUBLE THE SCARES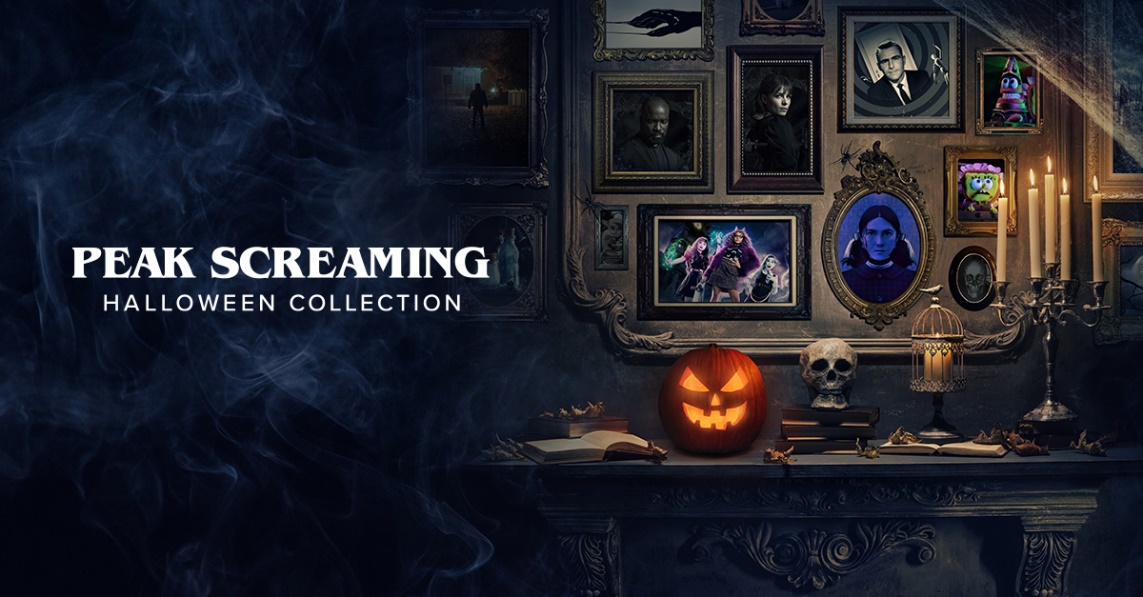 The Horror and Thriller Film Collection Includes the Highly Anticipated Premiere of "Significant Other" and Popular Horror Franchises Such as "A Quiet Place," "Scream," "I Know What You Did Last Summer," "Paranormal Activity" and "The Descent"
Family Fright Night Favorites Include the Debut of "Monster High the Movie," Plus Halloween Episodes from "Big Nate," "SpongeBob SquarePants," "PAW Patrol" and More
Click Here to Stream the Screams Now
NEW YORK – Sept. 22, 2022 – The Paramount+ Peak Screaming collection returns to the service today with an expanded screaming and streaming collection just in time for Halloween. The collection features more than double the programming from last year, including highly anticipated new originals, fan-favorite horror movies and iconic Halloween episodes from beloved series. This year's seasonal collection will include the debut of MONSTER HIGH THE MOVIE (Thursday, Oct. 6), a brand-new live-action musical from Nickelodeon; the exclusive premiere of new thriller movies such as SIGNIFICANT OTHER (Friday, Oct. 7); the release of an all-new special Halloween episode of GHOSTS (Thursday, Oct. 27) and more. The Halloween-themed content on Paramount+ can be found here.
The thematic library, which includes entertainment for everyone in the household, is thoughtfully curated into subgenres to enhance discovery. Carousels within the Peak Screaming collection include:
Big Screen's Big Screams: Blockbuster hits such as A QUIET PLACE, THE RING, THE DESCENT, WORLD WAR Z and 10 CLOVERFIELD LANE.

Buried Gems: Chilling thrillers such as THE BABYSITTER, as well as horror films like SPELL and SAINT MAUD.

Slash Hits: Spine-chilling films such as ORPHAN: FIRST KILL, SCREAM, CANDYMAN and THE TOWN THAT DREADED SUNDOWN.

Suspenseful Series: Edge of your seat shows such as EVIL, PAROT, THE TWILIGHT ZONE and CRIMINAL MINDS.

Family Fright Night: Family favorites such as SABRINA THE TEENAGE WITCH, THE ADDAMS FAMILY and ARE YOU AFRAID OF THE DARK.

Nickelodeon Monster Fest!: Beloved Halloween episodes from popular Nickelodeon series such as BIG NATE, SPONGEBOB SQUAREPANTS, PAW PATROL and BLUE'S CLUES.

Spooktacular CBS: Iconic Halloween episodes from some of the most popular CBS series, including BEVERLY HILLS, 90210, BLUE BLOODS, CHEERS, FRASIER and GHOSTS, which returns for its second season on Thursday, Sept. 29. The frightfully funny series will also debut a special Halloween episode, "Halloween 2: The Ghosts of Hetty's Past," on Thursday, Oct. 27.

Chilling Classics: Timeless films such as NIGHT OF THE LIVING DEAD, PROPHECY, DEMENTIA 13 and ATTACK OF THE GIANT LEECHES.

Teen Wolf: The Beginning: The complete original series of TEEN WOLF, including popular episodes such as "Wolf Moon," "Second Chance at First Line," "Lunatic" and "Code Breaker."
In October, the movie collection will grow again to include even more genre-defining hits and cult classics such as THE GRUDGE, I KNOW WHAT YOU DID LAST SUMMER, SHUTTER ISLAND, JENNIFER'S BODY, ANNIHILATION and INVASION OF THE BODY SNATCHERS, among others.
Paramount+ with SHOWTIME® bundle subscribers can stream the SHOWTIME Bloody Good collection of series and movies, including the Showtime Original Series premiere of LET THE RIGHT ONE IN on Friday, Oct. 7, plus other killer series like DEXTER®: NEW BLOOD and Emmy-nominated YELLOWJACKETS. Fright fans can also watch the latest installment of the legendary franchise SCREAM (2022), horror hits from A24 like X, MIDSOMMAR and HEREDITARY, and other perennial Halloween favorites including THE SILENCE OF THE LAMBS and ROSEMARY'S BABY. The bundle is currently offered at a special introductory pricing of $7.99 per month for the Essential Plan and $12.99 per month for the Premium Plan through Oct. 2.
The Peak Screaming collection is available to stream now. To view the Peak Screaming trailer, click here.
For more information about Paramount+, please visit www.paramountplus.com and follow @ParamountPlus on social platforms.
Proofread and Edited by Brenda
Back to the Primetime Articles and Interviews Page
Follow Us!